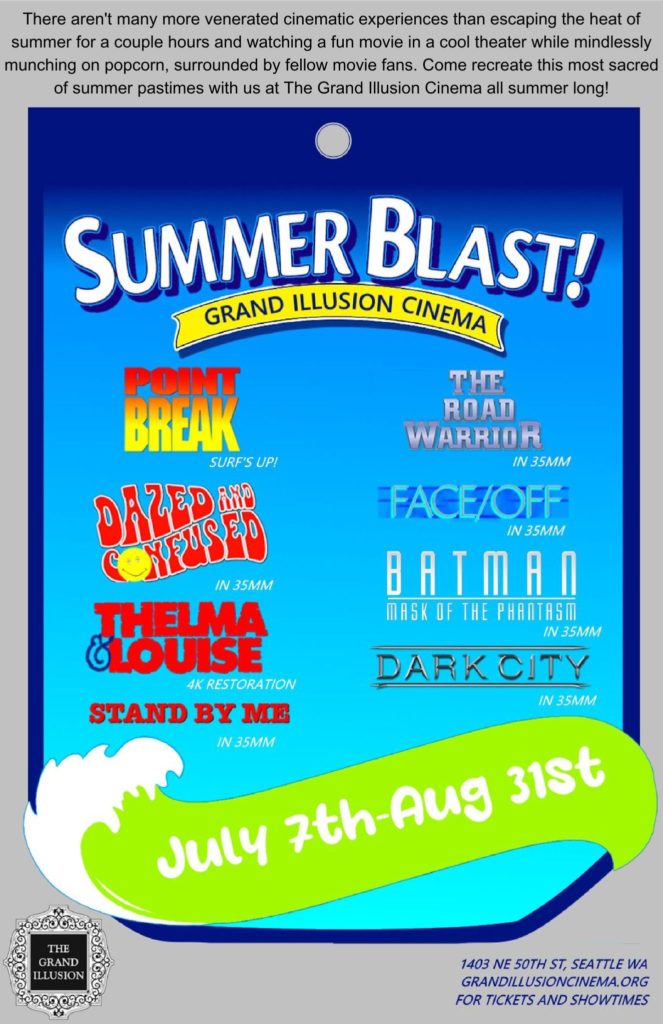 George Miller · 1981
96min · 35mm
Playing Jul 13
Thursday, Jul 13: 7:30 pm
After avenging the death of his wife and young son at the hands of a vicious gang leader, Max Rockatansky (Mel Gibson) drives the post-apocalyptic highways of the Australian outback, fending off attacks from nomadic tribes that prey on outsiders. Falling into an encampment led by the relatively peaceful Pappagallo (Mike Preston), Max at first schemes to steal their oil, but soon becomes the group's reluctant defender against the hulking Lord Humungus (Kjell Nilsson) and his ruthless marauders.
Part of our Summer Blast! film series.
"An extravagant film fantasy that looks like a sadomasochistic comic book come to life." Vincent Canby, The New York Times
"Miller's choreography of his innumerable vehicles is so extraordinary that it makes Spielberg's Raiders of the Lost Ark look like a kid fooling with Dinky Toys." David Pirie, Time Out
"This is very skillful filmmaking, and [it's] a movie like no other." Roger Ebert
John Woo · 1997
138min · 35mm
Playing Jul 20
Thursday, Jul 20: 7:30 pm
In order to foil a terrorist plot, FBI agent Sean Archer (John Travolta) undergoes facial transplant surgery and assumes the identity of criminal mastermind Castor Troy (Nicolas Cage). The plan turns sour when Troy wakes up prematurely and seeks revenge.
Part of our Summer Blast! film series.
"The best action movie of the summer." Gene Siskel
"Florid, passionate, frequently hilarious and loaded with messy emotions that nobody in his or her right mind should even attempt to explain, it's operatic in its nutball intensity." Stephanie Zacharek, Salon.com
"Face/Off is a full-blooded, movie-going experience. It's 100 percent movie." Keith Simanton, The Seattle Times
Kathryn Bigelow · 1991
122min · digital
Playing Jul 27
Thursday, Jul 27: 7:30 pm
In Los Angeles, a gang of bank robbers who call themselves The Ex-Presidents commit their crimes while wearing masks of Reagan, Carter, Nixon and Johnson. Believing that the members of the gang could be surfers, the F.B.I. sends young agent Johnny Utah (Keanu Reeves) to the beach undercover to mix with the surfers and gather information.
Part of our Summer Blast! film series.
"There's enough high-octane, heart-racing excitement for a dozen movies." Derek Adams, Time Out
"The elements conspire to produce a superb splash of trashy, testosterone-induced mayhem." Mark Dinning, Empire Magazine
Richard Linklater · 1993
102min · 35mm
Playing Aug 3
30TH ANNIVERSARY!
America, 1976. The last day of school. Bongs blaze, bell-bottoms ring, and rock and roll rocks. Among the best teen films ever made, DAZED AND CONFUSED eavesdrops on a group of seniors-to-be and incoming freshmen. A launching pad for a number of future stars including Matthew McConaughey, Parker Posey, and Ben Affleck, the first studio effort by Richard Linklater also features endlessly quotable dialogue and a blasting, stadium-ready soundtrack. Sidestepping nostalgia, DAZED AND CONFUSED is less about "the best years of our lives" than the boredom, angst, and excitement of teenagers waiting… for something to happen.
Part of both our Summer Blast! and Pocketful of Posey film series.
"Summer heat seeps from the screen, ambition goes up in a gentle haze of marijuana smoke and the film swaggers and lollops along to the beat of a supremely cheesy 70s rock soundtrack – Black Sabbath's 'Paranoid' has never sounded so jaunty." Ben Thompson, Sight & Sound
"Dazed and Confused ought to be in a prominent place at the Library of Congress, next to The Godfather, Frederick Wiseman's High School, American Graffiti, Nashville, Citizen Kane and other quintessentially American works. Like all those films, Dazed succeeds on its own terms and reflects American culture so well, it becomes part of it. More important, it's the best movie I've seen on serious butt whacking since If." Desson Thomson, The Washington Post
Rob Reiner · 1986
89min · 35mm
Playing Aug 9
Wednesday, Aug 9: 7:00 pm
After learning that a stranger has been accidentally killed near their rural homes, four Oregon boys decide to go see the body. On the way, Gordie Lachance (Wil Wheaton), Vern Tessio (Jerry O'Connell), Chris Chambers (River Phoenix) and Teddy Duchamp (Corey Feldman) encounter a mean junk man and a marsh full of leeches as they also learn more about one another and their very different home lives, all while trying to steer clear of the villainous town bully, Ace Merrill (Kiefer Sutherland). Just a lark at first, the boys' adventure evolves into a defining event in their lives.
Part of our Summer Blast! film series.
"A small, quiet film that walks tall and resonates long after." Carrie Rickey, The Philadelphia Inquirer
"It stands, sweet and strong, ribald, outrageous and funny, like its heroes themselves — a bit gamy around the edges, perhaps, but pure and fine clear through. It's one of those treasures absolutely not to be missed." Sheila Benson, The Los Angeles Times
Ridley Scott · 1991
130min · DCP
Playing Aug 17
Thursday, Aug 17: 7:15 pm
Directed by Ridley Scott from an Academy Award-winning screenplay by Callie Khouri, THELMA & LOUISE has been hailed as one of the best road movies of all time! Susan Sarandon and Geena Davis star as accidental outlaws on a desperate flight across the Southwest. With a determined detective (Harvey Keitel) on their trail, a sweet-talking hitchhiker (Brad Pitt) in their path and a string of crimes in their wake, their journey alternates between high-speed thrill ride and empowering personal odyssey.
Part of our Summer Blast! film series.
"Thelma & Louise is a rare thrill – a gleefully offbeat road movie in which two women, instead of the usual footloose fellas, exult in the heady freedom of America's lonesome highways." Kathleen Carroll, New York Daily News
"A pop fantasy with a viewpoint rooted in the kind of everyday reality that Hollywood routinely denies, playing fast and loose with the kind of masculine film conventions that have been long overdue for upsetting." Lynden Barber, Sydney Morning Herald
Alex Proyas · 1998
100min · 35mm
Playing Aug 24
Thursday, Aug 24: 7:30 pm
25TH ANNIVERSARY!
Roger Ebert's favorite film of 1998 and one of six movies to be blessed with a DVD commentary by the legendary critic. DARK CITY famously shares similar themes and ideas with THE MATRIX, yet predates the latter's release by just over a year. THE MATRIX even reused some of DARK CITY's sets. But whereas THE MATRIX was influenced by anime and martial arts movies, DARK CITY is pure noir. Well, sci-fi noir. It tells the story of a man who struggles with memories of his past, including a wife he cannot remember, in a nightmarish world with no sun, run by beings with telekinetic powers who seek the souls of humans.
Part of our Summer Blast! film series.
"[Director] Proyas floods the screen with cinematic and literary references ranging from Murnau and Lang to Kafka and Orwell, creating a unique yet utterly convincing world." Andrea C. Basora, Newsweek
"…a reminder of how sensuous a visual trip movie watching can be." Richard Corliss, TIME
"If you don't fall in love with it, you've probably never fallen in love with a movie, and never will." Stephen Hunter, The Washington Post
Bruce Timm, Eric Radomski · 1993
76min · 35mm
Playing Aug 31
Thursday, Aug 31: 9:30 pm
30TH ANNIVERSARY!
Our Summer Blast! film series concludes with one of the greatest Batman stories ever conceived. As Batman continues his war on Gotham City's underworld, he discovers a new foe who wants to take that war to a whole new level: the Phantasm, a mysterious masked figure who has killed off several of Gotham's high-profile mob bosses. The Phantasm has a similar appearance to Batman and targets criminals like Batman does, which leads the police to blame The Caped Crusader for the killings. As the police try to stop him, Batman tries to clear his name—and tries to stop the Phantasm before another murder happens.
From the creative team behind the acclaimed Batman: The Animated Series, featuring the voice talents of Mark Hamill as the Joker and the late, great Kevin Conroy as Batman, BATMAN: MASK OF THE PHANTASM has been argued by some fans to be the best Batman movie ever made.
"Terrific… really smart and beautifully drawn and intricately plotted." Gene Siskel
"It has style to spare. And for any kid at heart whose breath catches at the sight of a caped figure swooping across the sky, it has moments when your lungs will be stopped by a Dark Knight to dream on." Robert Faires, Austin Chronicle
"The Casablanca of Batman movies." Rohan Naahar, The Indian Express