…before the case cracks you
Stories of detectives and investigators driven to obsession, if not the edge of sanity, in their quest to crack particularly difficult, heinous cases… before the case winds up cracking them.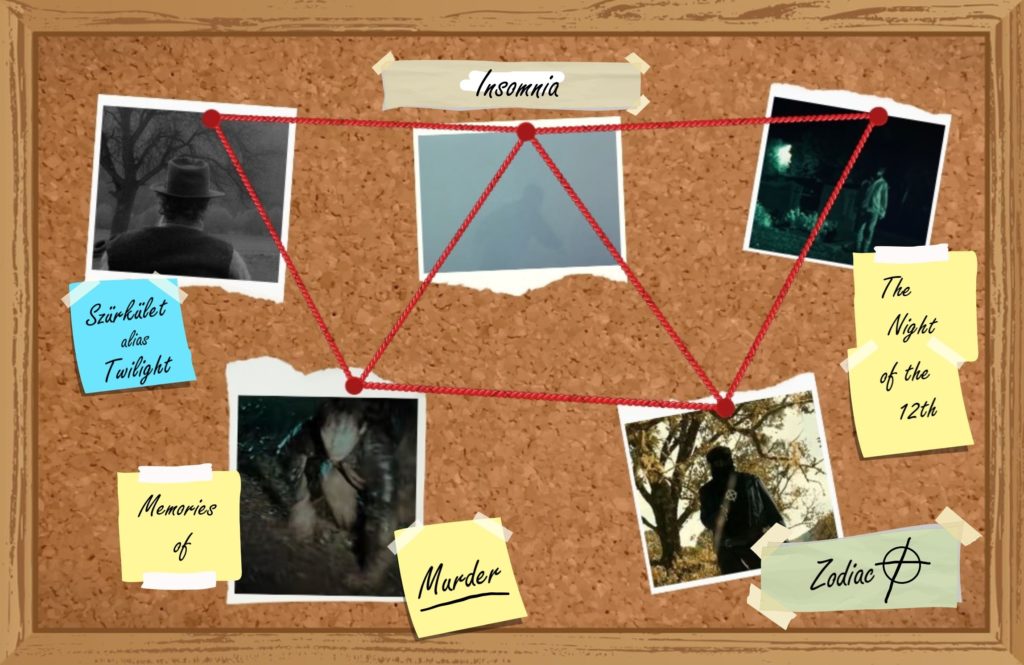 György Fehér · 1990
100min · DCP
Playing Jun 6
After discovering the murdered body of a young girl deep in a mountainous forest, a hardened homicide detective pushes himself to increasingly obsessive ends in his quest to catch the serial killer — known only as "The Giant" — responsible for the crime. A much admired but long unavailable masterpiece by influential Hungarian auteur and regular Béla Tarr collaborator György Fehér, TWILIGHT (SZÜRKÜLET) is at once an existential murder mystery and an expansive meditation on time and space. Stunningly lensed in rich blacks and cascading grays by DP Miklós Gurbán (WERCKMEISTER HARMONIES) and never before released in the United States, TWILIGHT is presented in a brand new 4K restoration by the National Film Institute – Hungarian Film Archive and FilmLab, supervised by Gurbán.
Part of our …before the case cracks you film series.
In Hungarian with English subtitles.
"[Exhibits] a style so minimalist, it approaches maximalism — and this combination of pulp and precision creates an arresting and unique work of film noir." Teo Bugbee, The New York Times
"The mood it builds is soul-shaking." Sheri Linden, The Hollywood Reporter
"It is an assured film, mature in its own right and poignant in its ruminations on madness, obsession, and futility." Calan Panchoo, Film Threat
Christopher Nolan · 2002
118min · 35mm
Playing Jun 13
Christopher Nolan's first major studio movie—and, according to the man himself, his most underrated film—was this superb remake of the 1997 Norwegian thriller about an embattled, sleep-deprived cop pursuing a killer in a small arctic town where the sun never sets.
Part of our …before the case cracks you film series.
Al Pacino stars as Los Angeles detective Will Dormer who, while under the scrutiny of an Internal Affairs investigation back home, travels with his partner (Martin Donovan) to a fishing village in Alaska, where they've been asked to assist local police in investigating the murder of a 17-year-old girl. The trail eventually winds its way to a local crime fiction writer, Walter Finch (Robin Williams, who, along with his work in ONE HOUR PHOTO, had one heck of a standout year). Finch just happens to have witnessed Dormer committing an ethically compromised act in the line of duty and wants to talk blackmail. On top of that, Dormer has to contend with the increasingly tenuous grasp he has on his own sanity due to a severe lack of sleep, along with a local officer (Hilary Swank) tasked to investigate his actions.
"Pacino, his creased face looking like it's been aged in a smokehouse, is wonderfully bleary as the increasingly confused Dormer… He's on the edge of madness, and Pacino isn't afraid to totter." Moira Macdonald, The Seattle Times
"Unlike most remakes, the Nolan Insomnia is not a pale retread, but a re-examination of the material, like a new production of a good play. Pacino and Williams are very good together. In this film… Williams reminds us that he is a considerable dramatic talent…" Roger Ebert
Dominik Moll · 2022
114min · DCP
Playing Jun 22
Thursday, Jun 22: 7:30 pm
Winner of seven César awards (the French equivalent of the Oscars)!
Part of our …before the case cracks you film series.
In nearly every police precinct, detectives are inevitably confronted with a case that goes unsolved. The more heinous the crime, the more it haunts those whose duty it is to solve it. Such is the dilemma for Yohan Vivès—a young, recently promoted police Captain—when he begins investigating the gruesome murder of a young woman named Clara in the town of Grenoble. It's clear that the attack was pre-meditated, and the violent nature of the crime suggests revenge. Vivés' team methodically digs through the details of Clara's life, uncovering her secrets in hopes of weeding out the killer. Certain their suspect is a scorned ex-lover, Vivés is confronted with another, more complicated question: which one? Based on a true crime book by Pauline Guéna, THE NIGHT OF THE 12TH is a gritty mystery that poses uneasy questions about the male-dominated world of law enforcement, and their ability to handle the violent crimes routinely perpetrated against women victims.
In French with English subtitles.
"CRITIC'S PICK! This is a refreshingly grounded, deceptively plain picture of crime-fighting as a grind of false leads, workplace fatigue and no closure." Nicolas Rapold, The New York Times
"The long and devastating fallout from a senseless act of violence affects almost everyone in this compelling reality-inspired account, which lingers in the mind in a way that few crime stories do." Helen O'Hara, Empire Magazine
Bong Joon-ho · 2003
131min · DCP
Playing Jun 20
20th anniversary of Bong Joon-ho's classic crime thriller!
Part of our …before the case cracks you film series.
In 1986, Park (Song Kang-ho) and Cho (Kim Roi-ha) are two simple-minded detectives assigned to a double murder investigation in a South Korean province. But when the murderer strikes several more times with the same pattern, the detectives realize that they are chasing the country's first documented serial killer. Relying on only their basic skills and tools, Park and Jo attempt to piece together the clues and solve the case in this thriller based on true events.
In Korean with English subtitles.
"How the hell does a film this tonally out there, with characters this lunkheaded and at times even cruel and hateful, manage to be so indescribably moving?" Bilge Ebiri, The Village Voice
"Bong elevates every scene with his unbelievably assured filmmaking." Brian Tallerico, RogerEbert.com
David Fincher · 2007
157min · 35mm
Playing Jul 6
Based on the true story of the notorious serial killer and the intense manhunt he inspired, ZODIAC is a superbly crafted, utterly captivating thriller from director David Fincher.
Part of our …before the case cracks you film series.
In the late 1960s and 1970s, fear grips the city of San Francisco as a serial killer called Zodiac stalks its residents. Investigators and reporters become obsessed with learning the killer's identity and bringing him to justice. Meanwhile, Zodiac claims victim after victim and taunts the authorities with cryptic messages, cyphers, and menacing phone calls.
"David Fincher's grim but mesmerizing Zodiac offers the puzzle-solving addictiveness of a detective story, the shivers of a thriller and the allure of a character study, all presented with a dash of newspaper drama. When it's over, you'll wonder why you're leaning forward, gripping the arms of your chair, forgetting to blink." Moira Macdonald, The Seattle Times
"A modern American masterpiece." Joshua Rothkopf, Time Out